K-State returns to EditShare based on stability and reliability
Boston, MA, August 30, 2023 – EditShare®, the technology leader that enables storytellers to create and manage collaborative media workflows, has upgraded the existing storage network at K-State Athletics, Inc. with more facilities and cloud synchronization. The installation was completed in association with US channel partner, Alpha.
K-State Athletics, as part of Kansas State University, has become one of the forefront collegiate athletic programs in the country, coming off a 2022 Big 12 Football Championship and an Elite Eight NCAA Men's Basketball Tournament appearance. K-StateHD.TV, the official video department of K-State Athletics, provides comprehensive linear, web, and social coverage of all 16 men's and women's sports activities, as well as providing elements and production for third-party media companies from across the nation.
Since 2016, K-StateHD.TV's broadcast and video board control rooms have used shared storage from EditShare. Now, as part of a major expansion of its capabilities, K-State Athletics has greatly expanded and upgraded the server network for K-StateHD.TV.
"We have been very pleased with the stability of the EditShare servers we have been using since 2013," said Andy Liebsch, Director of Video Services at K-State Athletics. "As we looked to the future, we wanted to make sure our servers were equipped to handle our increasing storage needs. We also wanted to provide a more robust solution for legacy content and backup. Alpha and EditShare provided the solution, and a seamless integration and transition program."
The new installation adds both online and nearline storage on site, and it now provides for storage and backup in the cloud, using EditShare FLEX Cloud Sync. Also installed as part of the upgrade were additional servers for the EditShare FLOW asset management database, which has opened up automated ingest and media acquisition.
Darren Whitten, senior account executive at Alpha, added "This is a long-standing and growing relationship. The people at K-State have benefited from the flexibility and stability of EditShare over a period of many years, and we have kept them informed about the continuing developments, including the ease of adding cloud for backup and archiving through FLEX. Downtime is also a challenge in the crowded college sports calendar, so the fact that we could get in at the right time and install the new hardware quickly was also a great selling point."
Said Bacho, CRO at EditShare said "As well as showing how our products fit seamlessly into modern workflows, this project also shows the benefits of our comprehensive distribution channel. Darren and his colleagues at Alpha stay in close touch with the team at K-State, so they understand what the college needs to achieve. That means we can roll out the right solution at the right time."
The upgraded and enhanced storage network went online in August 2023.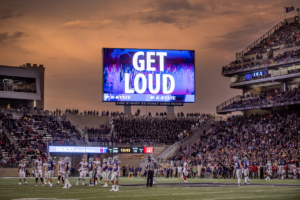 For further information on all EditShare solutions, please visit the website at www.editshare.com
For more information on EditShare solutions, please click here to get in touch.
About EditShare
EditShare is a technology leader that enables collaborative media workflows on-premise, in the cloud, or in a hybrid configuration. With customer and partner success at the heart of EditShare's core values, our open software solutions and robust APIs improve workflow collaboration and third-party integrations across the entire production chain, ensuring a world-class experience that is second to none. The high-performance software lineup includes media optimized shared storage management, archiving and backup, and media management, all supported with open APIs for extensible integration.
EditShare's cloud-enabled remote editing and project management technology was recently recognized by the National Academy of Television Arts and Sciences (NATAS) with a prestigious 2021 Emmy® Award for Technology and Engineering.
©2023 EditShare LLC. All rights reserved. EditShare® is a registered trademark of EditShare.
Press Contact
Kara Myhill
Manor Marketing
kara@manormarketing.tv
+44 (0) 7899 977222