What I love about working with film production crews and teaching a film class are the highly collaborative relationships formed while working towards a common goal. The interactions between students and their professor when working on a major project are just as "passionate" as the discussions between the director and cinematographer when discussing the art of the shot.
I have been fortunate to experience this collaboration from multiple perspectives, having spent more than a decade working in post-production on documentary and non-fiction projects for television and theatrical release. And I continue to work in this field designing collaborative workflows for filmmakers and facilities as a senior sales engineer with EditShare in Los Angeles, CA. I also teach giant screen (IMAX) film production to the next generation of filmmakers at the USC School of Cinematic Arts – my alma mater.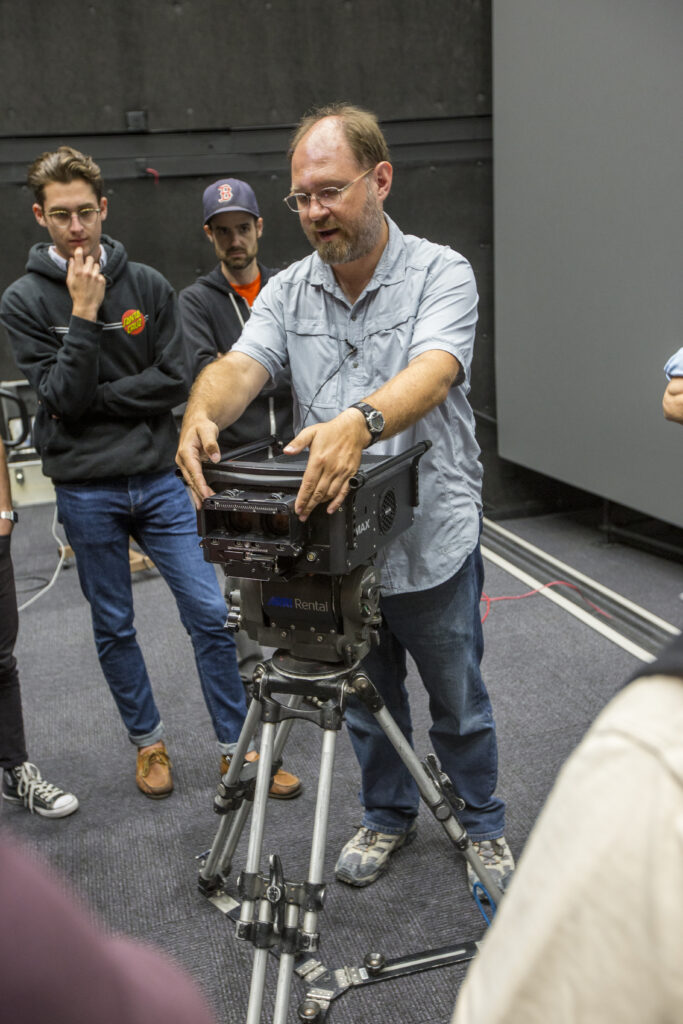 Teaching Students Across the Street and Halfway Around the World
The collaborative relationship between teacher and film student is a core element of film school. From my perspective as a professor, the pandemic has created unique problems – students and teachers are struggling to collaborate across time zones and geographies. They are also experiencing difficulties accessing materials and resources. This impacts the ability to teach, access to real-world experiences and more importantly, the students' ability to learn.
As we start the Fall 2020 school year, my students live as near as across the street to as far as across an ocean from our classroom. My colleagues and I are finding that many US-based students are staying local to their hometowns, and the overwhelming majority of international students are unable to return back to campus at all. With students spread around the world, some in countries with online access restrictions, we have extreme time zone differences that add another hurdle to collaborating in real time.
While sometimes the course work is independent, filmmaking, especially for juniors, seniors and grad students is a highly collaborative course of study with teams of students working day and night to create their projects. Compounding the challenges of connecting and collaborating is the lack of access to real-world experiences. 
Opportunities for students to gain hands on experience have taken a major hit. In April through June of this year, production nearly evaporated. Dropping 98%, only 194 shoot days were recorded in Los Angeles vs. the 8,632 shoot days recorded during the same period in 2019. It was the lowest filming level on record. Of the few internships still available, most are remote, denying students both real-world experience and industry relationships they will need to succeed.
Then there is access to the material that we teach in class. Some of the media we rely on to convey the concepts of our lessons is not readily available via Netflix, Hulu or Amazon Prime, yet it's an important component to the core curriculum.
So, as educators, how do we enable creative collaboration that exposes our students to real-world production, including access to the materials they need – when they are attending class from across the street to half-way around the world?
Options for Collaboration, Access, and Continuity
This is where I'm proud to be part of a company that has a solution for educators who are facing this problem.
For more than a decade, EditShare has been actively used in higher educational settings all over the world. It has given thousands of students real-world experiences in filmmaking, journalism, sports, and production. Its project sharing features let teachers collaborate on a deeper level with students, while useful admin tools and SSO integration manage hundreds of student profiles from a single dashboard with ease. And with the release of EFSv, our cloud-based solution, EditShare can virtualize an entire education focused post-production environment, allowing students to upload and share their raw or proxy media and collaboratively edit directly from the cloud, collapsing the distance that may be separating students from their peers and teachers.
EditShare's cloud-based EFSv solution, which is runs in cloud infrastructures such as AWS, Google Cloud, Tencent Cloud, and other public cloud environments, enables instructors to securely store and share raw or proxy media in the cloud, providing students seamless access to footage from their team's project, regardless of where in the world each student may be.
Where EditShare cloud-based solutions really help education is through its remote editing capabilities. It supports all industry NLEs, so no matter the toolset a student has access to, they can participate in any project. Everything, including project sharing, editing, and bin locking, is virtualized. As a teacher, I can easily spin up an entire virtual classroom in moments, with all the computing power needed to complete real-world projects in the cloud.
EFSv solutions also optimize the cost of editing in the cloud. EFSv puts high-resolution files into cost-effective object storage but makes those files appear as if they are on a normal mounted block storage file system. At the same time, EFSv provides the scalable high-performance block storage needed for low-latency access to proxy files and renders. Proxies are generated by our FLOW media management system. Both high-resolution and proxy versions are accessible at all times, streamlining the editing workflow while minimizing costs.
For institutions that do not want to put everything into the cloud – EditShare's FLOW and AirFLOW media management applications enable students and instructors to securely access the university's private on-premise storage. Students can log-in, access course materials, including films they need to review as well as share their own projects. Teachers can use FLOW to review student work and provide feedback on the next steps.
Many hybrid cloud + on premise workflows are also available. Most popular is storing raw footage locally on campus and sharing proxy media through the cloud.
Making Lectures Accessible…Globally
Another new challenge with distance learning has been teaching via video conference, and institutional mandates to record our classes for asynchronous learning or other requirements. This is a great idea, but as anyone who has actually watched a recording of their class will know, there's plenty of class time taken up with minor admin – like attendance, 1:1 conversations with students and even some technical issues that don't need to be or shouldn't be replayed publicly. This is where FLOW's integration with Zoom has become extremely useful. FLOW is now able to automatically download all angles of a class recording, including the shared desktop, plus it downloads the AI speech to text transcription as markers on your video. Now instructors can quickly edit out any material that's not germain to the lesson either with FLOW Story or with the NLE of their choice. We can even cut our recordings down into pod size modules making it easy for our students to find specific sections or topics they wish to review.
It's All About Being Flexible

There is light at the end of the tunnel. Productions will return, many already have, and we'll get to collaborate in person once again. But many of the new habits we've adopted during this pandemic might be to be so efficient that in many ways, there is no going back to how it once was.
Either way, EditShare has the flexibility to offer the classroom of the future—whatever that will look like–the capabilities it will need.