I'm spending 2022 making up for lost time.
After a few years sitting in front of a screen on seemingly endless Zoom calls, I've spent most of this year in airplanes, on the road, and in front of partners and clients. And after a few particularly busy weeks of travel, I finally took a moment to look back on our first in-person IBC show in three years.
Like any good trade show, this year's IBC was exciting, eye-opening, exhausting, and a little indulgent all at the same time. We won't talk about the lines at Schiphol trying to leave Amsterdam! After some reflection, I wanted to share a short summary of what I took away from IBC, in one word, one theme, and one feeling.
One Word: Optimism
The only thing that people on planet earth do more than consuming video is working and sleeping and people are watching more video than ever before, and that trend is creating big opportunities for our creative clients. However, if you look across the economic climate, there's a lot of heaviness out there too. The specter of a potential recession, a rising interest rate environment, and armed conflicts around the world are creating a lot of concern, and the need for many in our industry to do more with less. Despite that turmoil, I saw example after example at IBC of technology solving problems that enable creators to bring compelling content to subscribers faster and more efficiently. I see a real opportunity for our industry to come together and partner across our environment to solve the hard problems that need solving. Business models are changing from perpetual to recurring models. The industry is moving towards the cloud. As an industry, we need more innovation, more automation, and more simplification. Maybe this is an unpopular opinion, but I'm also hoping to see a little less of vendors beating down on price and more examples of innovation that helps creators do what they're really great at: Making more cool movies, TV, and content.
Maybe this is a stretch of the concept of optimism, but I can't tell you how good it felt to connect with people I've only had a chance to meet with virtually, and how much I'm looking forward to doing more of it in 2023. More than once I found myself closing a conversation on the floor with a handshake and a "good to see you again", only to realize (or, on a few occasions, to be politely reminded) that I had only ever met the person over Zoom. Some of these folks have been customers of EditShare for multiple years now, and we are having our first in person introductions. So many of us still have so much catching up to do.
Our week in Amsterdam reminded me how much I'm looking forward to more of those connections later this year. For those of you joining us at NAB New York, or our channel partner training programs in Watertown, Basingstoke, and Thailand, I look forward to seeing you in November!
One Theme: A more flexible approach to Cloud
Cloud has been a hot topic for our channel partners and customers for some time now. But this year's conversation around Cloud is noticeably different when compared to a few years ago. The conversation has shifted from "should we move to the cloud" or "I'm never going to the cloud" or "I just don't get the cloud" to "I'm in the cloud" or "I need to know you can take me to the cloud when I'm ready" or "I don't believe in the cloud, but… convince me because I might be wrong".
At our last in-person IBC show in 2019, I remember a lot of "in or out" cloud conversations. Our industry was conceptualizing the cloud at that time as a full commitment, "either-or" proposition. You either kept everything local, or you moved it all into the cloud. There was no middle ground. That's not the case anymore. Even the language people use to talk about the cloud is changing. The stuff we labeled "cloud" before is now much more likely to be referred to as "hybrid workflows."
That's a small shift, but almost everyone on our team noticed it. As we debriefed the show and discussed the changing perspectives on the cloud, the word that kept coming up was "flexibility." Creative teams have different appetites, different needs, and are starting from different places as they consider how to equip their people. Some of our best conversations at IBC centered on how creators can make the "right first move to the cloud", and helping our customers diagnose where they are and what they're ready for in their cloud journey. My biggest takeaway? There's no one right answer. Teams can and should take a flexible approach. But flexible approaches can also be daunting – there are so many options to consider. Having a framework to lean on sure seems to help. We have some good thinking to share here. Our CTO, Stephen Tallamy, will also be sharing some of his evolving point of view on a more flexible journey to the cloud in an upcoming IBC recap, and I encourage you to keep an eye out for that in a few weeks.
One Feeling: Pride
I walked out of IBC feeling proud. Proud of what our product can do, proud of what we've accomplished this year, but most of all, proud of the people on our team.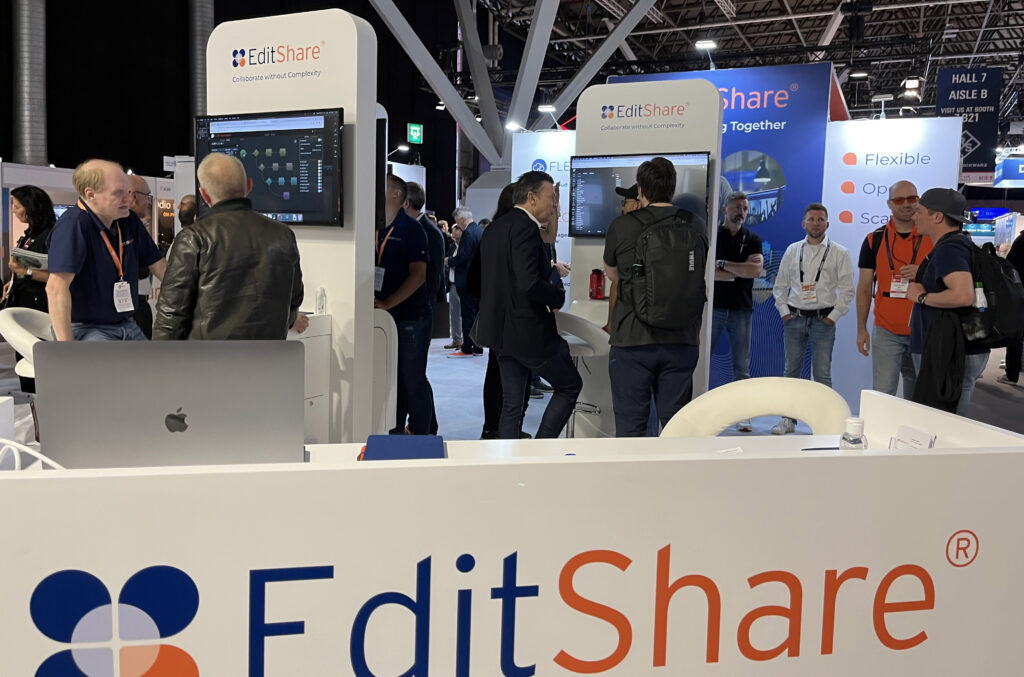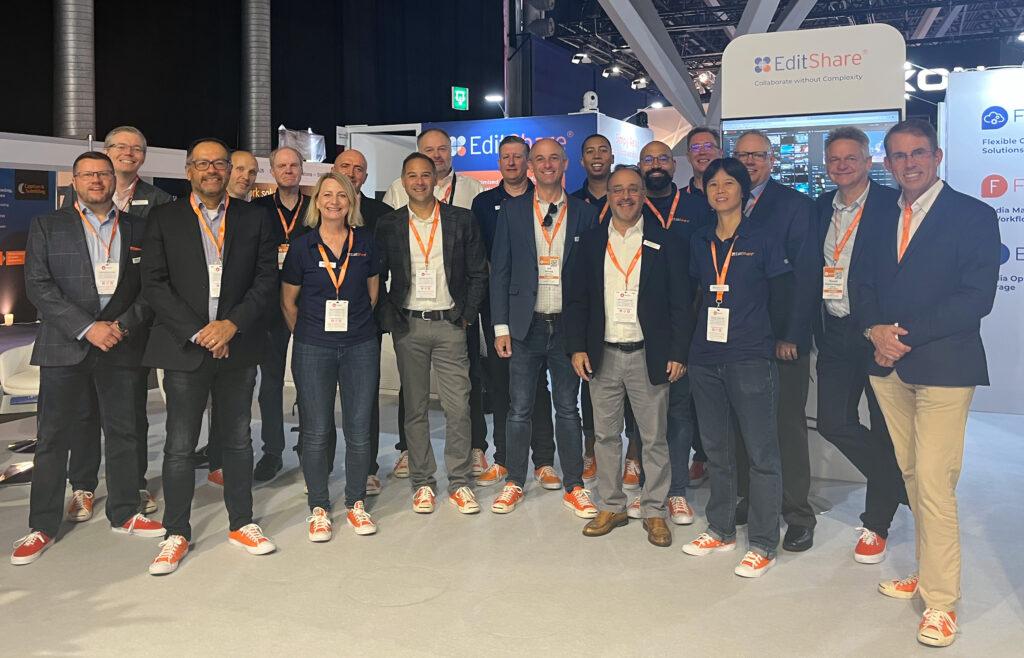 I won't lie. I like to win. After being awarded a technical Emmy this spring, EditShare took home a Best of Show award for our Universal Projects approach at IBC. The team was elated. Being recognized for innovating in a room full of innovators is the kind of recognition you hope for in this industry. It's validation for all the work we've done to translate what we hear from our customers into how our products work and what we choose to build next. It felt great.
But like I said, our win isn't what I'm most proud of. What makes me most proud is simply how our team showed up. Every company out there talks about culture. But anybody who visited the EditShare booth got to experience ours and feel just how special our team is. They got to see firsthand how EditShare's core values make this not only a great place to work, but also how they inform our product decisions and corporate strategy, and how they help us simplify storytelling for hundreds of clients around the world. We dig deep. We are all around athletes. We have deep customer empathy. We are humble. We win together. We're EditShare. We are excited and optimistic about today and the future.
We're looking forward to seeing many of you as we continue the [tradeshow tour] in Q4 and into 2023. In the meantime, don't hesitate to drop us a line if there's anything we can do – or if you'd like to hear more of what's standing out for us so far this year.
Hope to see you soon.
---