Like many of you, I'm taking a big breath following an exciting week in Vegas for this year's National Association of Broadcasters (NAB) conference. As always, NAB provided a unique opportunity for us to connect with industry experts, showcase our latest products, get together as a globally-distributed team, and gather valuable feedback from our esteemed customers and partners. It was a great show – and we enjoyed seeing everyone who made the trip to our booth.
A few key themes seemed to dominate conversations during the show – this is what I noticed that kept coming up at NAB:
Collaborative Workflows: The importance of collaborative workflows in the media and entertainment industry has never been more evident. At NAB, we highlighted our latest innovations in collaborative workflows and shared storage solutions. Our new features, such as universal project sharing, enhanced metadata management, multi-site support and remote editing capabilities, were met with overwhelming positive feedback. We are proud to continue our commitment to providing cutting-edge collaborative tools that streamline media production workflows and foster creativity among teams. We continue to drive forward our strategy of creating amazing everywhere.
Hybrid Cloud-Based Solutions: As our CTO, Stephen Tallamy puts it, "everything seems destined for the cloud… eventually." But the pace and sequencing of that move is different for every team. That's still true here in 2023. While some teams are dipping their toes in the water, others are ready to take the plunge but aren't quite ready to commit to moving all of their workflow to AWS just yet. As a provider of cloud-based solutions, we want to support customers who are ready to start their cloud journey while also acknowledging that the right first step looks different for every team.
At NAB, we showcased our latest advancements in hybrid cloud-based editing, media management, and storage solutions. Our hybrid cloud offerings give customers the flexibility, scalability, and cost-efficiency they need to meet the evolving demands of modern media production – sometimes that means a mix of on-prem and cloud, both in storage and media asset management. We're excited about the possibilities that hybrid cloud-based technologies bring to the industry, and we're committed to expanding our solutions to help customers stay ahead of the curve. If you're thinking about a potential hybrid cloud strategy, we have more examples than ever about 'what good looks like' that we'd be happy to share.
We were also surprised by the number of those who have multiple EditShare deployments and are interested in connecting those workflows to create global efficiencies. This is an area where we are innovating and making investments, and we're pleased that these investments were validated by the customers we spoke with. We're going to continue investing here – check out our CTO, Stephen Tallamy, discussing our thinking on where hybrid is headed from the NAB floor here.
AI-Driven Media Management: Artificial intelligence (AI) has reached peak hype status, but it's also transforming the way media assets are managed and monetized. At NAB, we demonstrated our latest AI-driven media management tools that leverage machine learning and automation to streamline media workflows, enhance search capabilities, and optimize media asset organization. Our customers were impressed with the increased efficiency and productivity that our AI-powered solutions bring to their operations.
While I was at NAB I also participated in the SET Future of Broadcast panel. Fernando Bittencort, former CTO of Globo moderated the panel. He kicked off the panel by reading the response he got when he asked ChatGPT "What is the future of Broadcast?". We can debate the quality of ChatGPT's answer to his question, but the fact that this is even possible should cause us to stop and recognize two things: (1) The world has changed, and (2) our industry is not exempt. The possibilities for what it can do – from search ability to documentation to customer support to how we test our products – the limit of how we apply AI and machine-learning technology to the problems media creators face. And I'll leave it to smarter guys than me to talk about the limits and governance that should be placed on it.
The most encouraging part of NAB? Our industry is back. We had 120 channel partners in attendance from all around the world. We had more than double the product demos vs. 2022. Leads and opportunities coming out of the show were also up. Things are moving in the right direction.
As we reflect on this year's NAB conference, we are energized by the opportunities and challenges that lie ahead. We remain committed to our mission of Creating Amazing Everywhere by empowering media professionals to create, collaborate on, and deliver exceptional content.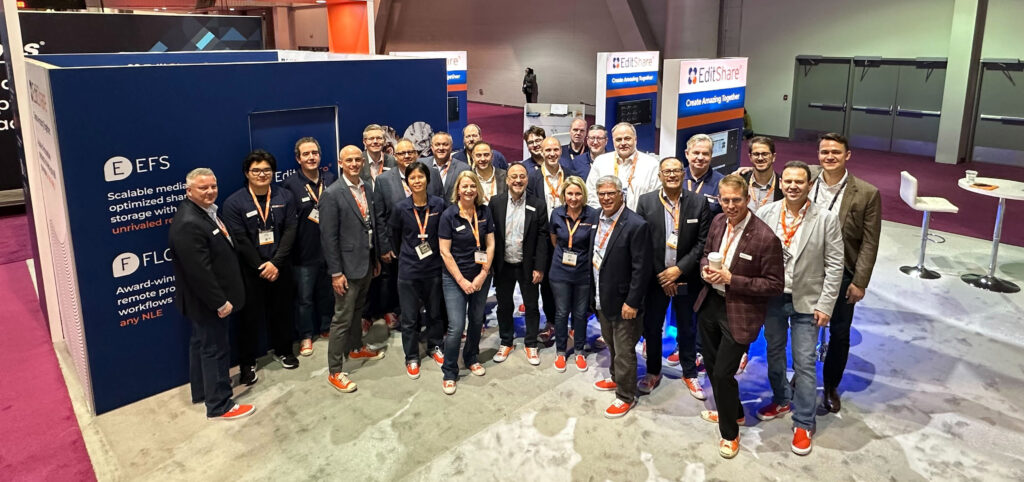 Thank you for your continued support of EditShare. We look forward to spending more time together in 2023.
---